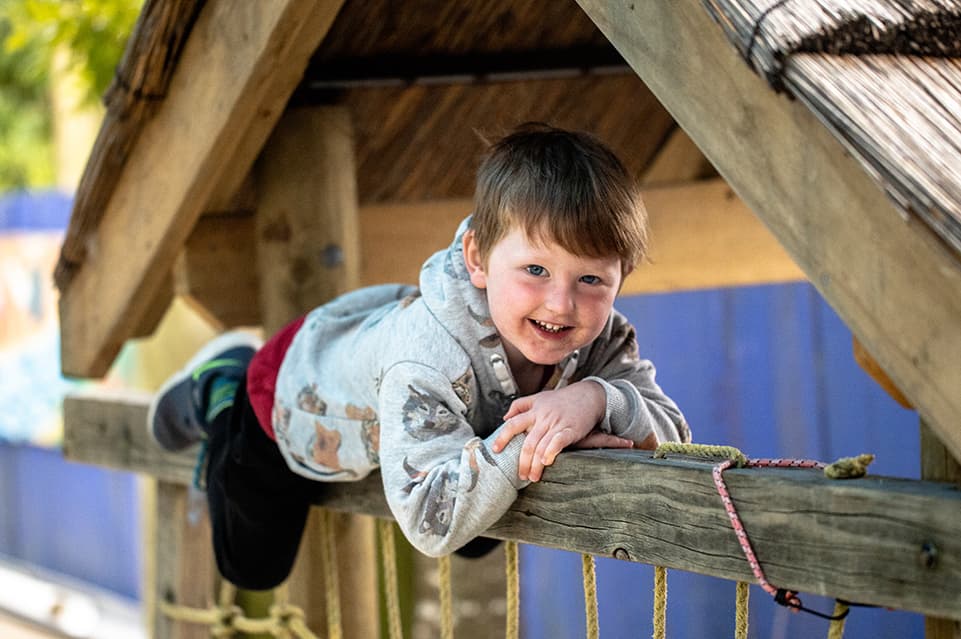 RISKY PLAY
What is risky play?
Play is not something that is taught but is something that comes naturally to children when they explore and experiment with the environment around them. The Ministry of Education says play helps children connect relationships between people, places and things and is important for meaningful learning. An aspect of play that is beneficial for development in early childhood is risky play. Risky play for children usually means playing outside, taking risks, and experimenting with the environment or equipment provided.
Risky play is an essential form of play for a child's development in early childhood. It is when children challenge themselves to participate in a learning experience that could cause injury. Children enjoy risky play as it can be exciting or thrilling and they have the opportunity to test their boundaries and limits. Some examples of risky play that we encourage at Our Kids include going for walks outside the centre, climbing, balancing, jumping off things or construction with hammer and nails. These experiences are beneficial as they can increase children's capabilities and confidence.
What is my child learning doing risky play?
Children challenging themselves and pushing their boundaries supports their physical, emotional and intellectual development. Your child will develop physically and mentally engaging in risky play as they build their muscles and bones and learn their limits. They make sense of the world they live in and connect to their environment as they take risks and develop intellectually. They feel accomplished and proud as they overcome their fears when they achieve something they haven't before. They learn how to adjust to dangerous situations and respond appropriately or how to avoid dangerous situations. Making these small risks in early childhood is important for future risk assessment in adult life. Safe risky play allows children to figure out what they can do alone versus what they can do with help.
What will happen if I don't allow my child to engage in risky play?
When it comes to risky play, some parents can be protective of their children before they know their child's capabilities which we definitely understand. However, children need to experiment and discover their capabilities themselves as restricting the child too much inhibits their ability to play independently. If we deprive a child of engaging in risky play they will miss out on developing risk assessment skills needed for future childhood or adult life, have a lack of independence, and potentially have bad judgement or perception skills. Please communicate your concerns with us as we can further explain something or gain an understanding of why you don't want your child to participate.
How will you keep my child safe?
During risky play we increase the ratio of teachers to ensure the children are supervised and kept safe. Our ratio every day is 1 teacher to 8 children over 2 years old and 1 teacher to 4 children under 2 years old and when we go for a walk, our ratio is 1:5 for over 2's and 1:2 for under 2's. We also adhere to the safety regulations set by the Ministry of Education, which ensures that the playground equipment is in safe positions and below regulation height.
Sometimes children can get bored with the structures that teachers create in the playground and ultimately, move the equipment around to make it challenging or riskier.
They experiment with equipment and sometimes use it to play in a way that it is not meant for which can be dangerous and cause injury. Teachers knowing about the regulations and always keeping an eye out for potential hazards is a way to mitigate injury and ease parents' reservations about risky play. We constantly supervise and keep an eye out for children engaging in unsafe risks. If a child can't reach the monkey bars we will not lift them up to it and they won't be able to engage in that activity until they are big enough to reach. Or if they cannot climb to the top of the box we will not lift them as their risk assessment is not properly developed to judge their level of safety once up there. We scaffold the children who can climb to the top as we stand close by to ensure they feel safe or hold their hand while they walk across the beam if they need. Once children know their limitations, they only engage in risks they feel comfortable doing and that they are capable of as well as challenging their limits.
Bachelors of Education (ECE)
ECE Teacher at Our Kids Glendene
Emma Hutchings is a freshly qualified and registered teacher at Our Kids Glendene. She is passionate about making a positive impact in every child's life. She aims to support children to become active and participating citizens by building positive reciprocal relationships and supporting them gaining a sense of belonging.