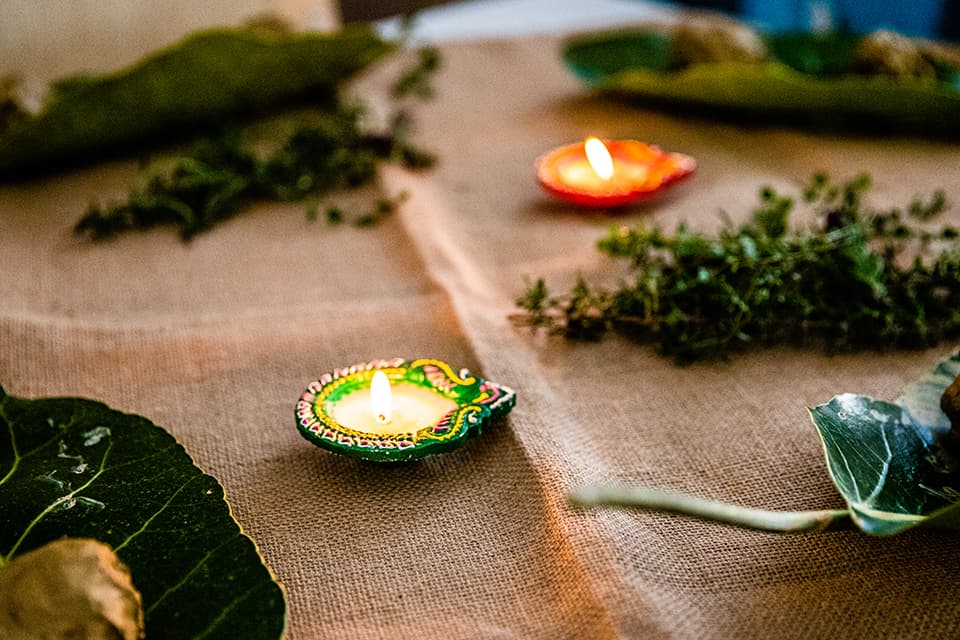 KEEPING DIWALI EXPERIENCES AUTHENTIC AT YOUR EARLY LEARNING CENTRE
Why is Diwali celebrated?
Diwali is the festival of lights which is celebrated by millions of Hindus, Sikhs and Jains around the world, including those that are in New Zealand. The reasons people celebrate Diwali varies with the different religions. For some Diwali coincides with harvest and new year celebrations, for others it is a festival of new beginnings and the triumph of good over evil, and light over darkness.
Acknowledging Diwali meaningfully
Over the years I have delved deep into how festivals can be acknowledged at Our Kids. Diwali is very special to me as I am Indian, and I was interested in how I could make this festival more meaningful for young children. Kimberley Crisp in her book Heart of Christmas says, rituals that create love and leave rich bank of sensorial impressions are sent into the child's heart and will be remembered and continued. When I asked my colleague what she remembered about Christmas, the first thing that came to her mind were the smells of a real Christmas tree. I had similar memories of Diwali as a child, it was the sensory memories and time together with my family that stood out the most. Therefore, acknowledging Diwali for me is about providing meaningful experiences and traditions that fill a lifetime of cherished memories. Authentic experiences are sensory, and they will be remembered unlike artificial activities that are disconnected from life. It is about building young children's understanding of traditions, why the festival takes place, the activities that happen, any foods that are associated, and the history about the festival.
My childhood memories of Diwali
The festivity lasted for several days, I can remember the excitement of new clothes, jewellery, and beautiful decor around the house during this time. We cleaned and washed the front yard before dawn after which I, my mom and my sisters spent long hours doing elaborate rangoli designs. It was fun and therapeutic drawing the rangoli. Lunch was a huge spread of spicy curries, savouries, and sweet dishes. A lot of my childhood memories are associated with the smells of my mum's cooking. In the evening was fun, I really enjoyed arranging and lighting the diyas by the door, balconies, and windowsills. I loved the fireworks, I was most excited from lighting the loudest especially the ones that had 1000 in a chain. Diwali was also about giving- anybody who came home were offered sweets, if we went to someone's house, friends, or neighbours we would be offered sweets. So, thinking about what has left a lasting impression on us can tell us what experiences we can provide our young children.
Keeping Diwali experiences authentic at your early learning centre
Prepping before the festival begins by spring cleaning and organizing. You may want to sweep the concrete area outside your centre door before offering Rangoli experiences (intricate designs with coloured powder, chalks, or flowers). Children need to see a beautiful Rangoli to be inspired. Invite an Indian parent to draw a Rangoli, then let children have their turn.
Put up door decor toran that can be made with flowers to welcome good energy
Put up string lights outside or/and inside your centre
Whip up several sweet and savoury dishes throughout the celebration. Take children for a walk when sharing them with your neighbours
Offer mehndi experiences, you can either purchase henna cones and try applying to children yourself or invite a local artist. Henna is applied on hands and arms and is a temporary form of skin decoration given importance during festivals and signifies good luck and happiness.
Impart real life values through stories. Mythology though, is hard to comprehend by young minds. It is paramount we connect these stories to real world examples to make them easier to understand. For example, one of the legends pointing to the origins of Diwali says that Ram on that special day, was welcomed to the kingdom of Ayodhya with rows of diyas, after vanquishing the demon king Ravana and conquering Lanka. Thus, the tradition of lighting oil lamps on Diwali symbolizes the victory of good over evil and freedom from spiritual darkness. Read children's books featuring stories about Rama and Sita and the story of Diwali.
 Offer decorated earthen diyas as inspiration when providing children with paint and clay.
Provide traditional Indian clothes, saris, kurta and pyjamas as dress ups. Children need to see others wear cultural clothes to show appreciation. Invite Indian children or adults to wear traditional clothes during festive days.
Invite parents/whanau for a Diwali evening and ask them to bring their cultural food. Offer some traditional Indian dishes for the evening- mango lassi, butter chicken, chickpea curry, samosas are the favourite dishes at our centre.
Illuminate the centre by lighting diyas, line them outside the door, on windowsills where it is safe. Make sure you light plenty of diyas to provide a meaningful sensory experience for children.
Play some Indian music and use marigold flowers to create an ambience and decor for the night. The vibrant sunshine hue of marigold is considered very auspicious and holds spiritual significance.
Light firecrackers to enjoy on Diwali evening.
Bachelor of Education (Teaching) (ECE)
Anita has nearly 25 years of experience in early childhood education. She enjoys being in a mentoring role with teachers supporting them when embracing challenges within our every changing education landscape.
When she is not teaching she loves caring for indoor plants, watching movies and travelling.