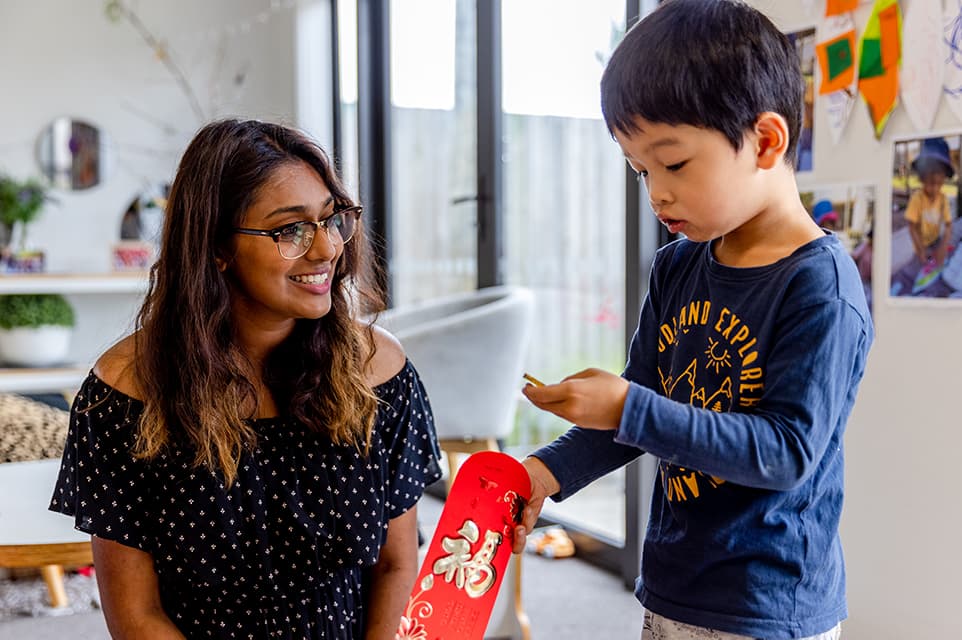 CELEBRATING CHINESE NEW YEAR IN YOUR EARLY LEARNING CENTRES
The Chinese New Year, which is also known as the Spring Festival or Lunar New Year is celebrated by millions of people around the world. China is not the only country that celebrates the start of a new lunar year around this time. Several other countries in Asia, including Vietnam, Korea, Japan, and Philippines, hold their own new year celebrations. Sometimes, the date celebrated may differ by one day or even one moon cycle due to time zones or other factors.
How long is Chinese New Year?
Usually, the Chinese New Year festival period lasts for approximately 16 days, starting from Chinese New Year's Eve to the Lantern Festival. In 2021, it is from February 11 to February 26th. It is a great time to fill the centre with festive activities/experiences.
How is Chinese New Year celebrated?
Houses are decorated with lanterns, red message banners and New Year pictures (a traditional woodblock print). As 2021 is the Year of the Ox, ox images will appear on decorations.
To celebrate the Lunar New Year there are parades through the streets with music, acrobatics, and dragon dances. Other traditions include having a family reunion dinner on Lunar New Year's Eve, distributing red envelopes with money to children. The festivities continue for two weeks, finishing with a lantern festival, which signals the end of the New Year celebration period.
Acknowledging Chinese New Year in your ECE centre
I do not have a Chinese background, however I am passionate about learning about other cultures. I enjoy travelling, and have been to China, and in the past I tried to learn Mandarin to use at a previous centre. Over the years I have explored how festivals could be made more meaningful for children at Our Kids. There is a wealth of information available online. There are many traditions in the festival which offer opportunities to extend children's knowledge and understanding about the world. But it is crucial that we help children develop an understanding about the festival through the context of real-life experiences so that they can be remembered.
Recognising Chinese New Year for me is about building young children's understanding of traditions, the activities that happen, any foods that are associated, and the history about the festival. Therefore, allowing children to celebrate a festival and its associated rituals with an understanding of their significance. It is about supporting children in beginning to understand the commonalities of human values that are shared by all cultures and religions. So, when we bring in a depth of understanding to the rituals that most festivals are marked by, hopefully we will be creating lifelong memories.
Providing real life experiences and keeping it authentic
Chinese Zodiac
The Chinese zodiac is a repeating cycle of 12 years, with each year being represented by an animal. In order, the Chinese zodiac animals are: Rat, Ox, Tiger, Rabbit, Dragon, Snake, Horse, Goat, Monkey, Rooster, Dog, Pig.
2021 is the Year of the Ox, you can begin by finding out the story of the zodiac animal with the children and the fortune for the year ahead.
Next work out which zodiac animal each of the children are using Chinese Zodiac years chart.
People are said to have similar characteristics to their animal, so you can have fun deciding what each animal means. Is it a fierce, brave, kind, or a clever animal?
You can play a game with the children where they draw names of Chinese horoscope animals from a container and then act out movements or sounds of the animals.
Red Lucky Envelopes
Children are given red envelopes, or hongbao, for Chinese New Year by family and friends. The envelopes are sometimes decorated with symbols like the Chinese dragon or lions for good luck. Greetings and good wishes written in gold letters are also often added. To replicate this tradition in your centre you need to get your hand on some red envelopes, I found them in the two-dollar shop and in some of our centres the teachers and children made them themselves. Then you will need to put some coins in the envelope, the amount of money typically ends with an even digit, as traditionally odd numbers are associated with funerals. Additionally, it is believed that the money is never given in fours, as four is deemed unlucky in Chinese culture. There are multiple origins of the red envelopes given out during Chinese New Year, you may want to research one with the children.
Lanterns, message banners and firecrackers
Decorate your early learning centre with red and gold lanterns and banners with messages to create a festive look and to provide a real experience. You can hang them everywhere, particularly by doorways and entrances to greet visitors. There are two types of banners hung around and on door frames during Chinese New Year. One is a diamond shape with one Chinese character written on it, usually fortune or spring. The vertical banners have auspicious blessings written on them. The vertical banners are hung in pairs.
To encourage mark-making, provide children with plenty of examples of each symbol as well as paper, black paint, or marker pens to copy Chinese writing characters.
Paper firecrackers are also used to decorate homes at this time of year. Originally, loud firecrackers were also set off to scare away evil spirits. You can make your own by rolling red paper and by edging each end with gold. Then string them together in a bunch and hang them wherever you like.
Chinese Dragon
Children in my experience love the idea of Chinese dragons, provide a dragon picture for art provocation to encourage children to paint or sketch a dragon.
You can make a dragon mask with the children and decorate a sheet with ribbons and streamers. Then watch a video of the dragon dance with children and encourage them to have a go.
Reunion Dinner on Lunar New Years' Eve
The reunion dinner on the night before is an important New Year's tradition. The New Year cuisine is varied and colourful. They are said to help bring good fortune and they have symbolic meanings. Some of the traditional dishes include spring rolls, longevity noodles, dumplings. sweet rice balls, fish, oranges and other citrus, and sweet glutinous rice cake.
You may want to cook some of these with children or have an event with parents with shared food where the centre can provide some food, you can even ask parents with Chinese backgrounds or other South East Asian background that celebrate lunar new year for recipe ideas. And share the recipe ideas with the rest of centre whanau.
Useful Resources
For the origin of the lantern festival check out the link below, there are many versions of this legend however I believe this version of the story is popular and easy to relate with children.
https://ltl-school.com/chinese-lantern-festival/
Here is a Chinese New Year song to learn and sing with the children.
Here is a video about a few legends to do with Chinese New Year.
Bachelor of Education (Teaching) (ECE)
Anita has nearly 25 years of experience in early childhood education. She enjoys being in a mentoring role with teachers supporting them when embracing challenges within our every changing education landscape.
When she is not teaching she loves caring for indoor plants, watching movies and travelling.